Protest the Israeli killings in Gaza – Fridays 12.30 -1.30pm in June, Brisbane Ave entrance, DFAT, Canberra
9 Jun 2018 2:00 PM

-

30 Jun 2018 4:00 PM

AEST
The Israeli deadly attacks on Gazans continue.  The killing recently of 20 year old Palestinian medic Razan Al Najjar is an atrocity which Israel must be held accountable for, along with all the other deaths and injuries.
JOIN US TO PROTEST RAZAN'S AND ALL PALESTINIAN DEATHS AND INJURIES IN GAZA

AJPP is calling for you to join us at a vigil in the park at the Brisbane Entrance of the Department of Foreign Affairs and Trade (DFAT), on the coming Fridays in June between 12.30 and 1.30pm to protest the killing of more than a 130 Palestinians in recent weeks and the injuring of thousands.
The Australian government has shamed Australians by refusing to support a UN Human Rights Council resolution for an inquiry into Israel's killing of Gazans, as well as voting against a General Assembly resolution calling for the protection of Palestinians.  Australia was one of only 8 countries to vote against the motion for protection – in company with Israel, the US, the Marshall Islands, Nauru, Togo, Solomon Islands and Micronesia. Shame on the Turnbull government!
Join us on Fridays at DFAT in June to show the Government that Australians are appalled at the crimes being committed against Gazans as well as Palestinians in the West Bank on a daily basis.  Bring you placard or we will have some there for you to hold.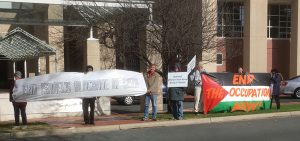 The long banner says ' End Israel's blockade of Gaza'.
Razan Al Najjar: Palestinian medic who saved lives shot dead by Israeli sniper
Al Najjar was the 119th Palestinian killed since the protests began in March, according to Gaza health officials
Khuzaa, Gaza Strip: She had become a fixture at the weekly protests along the fence dividing the Gaza Strip from Israel, a young woman in a white paramedic's uniform rushing into harm's way to help treat the wounded. Read more