Alliance against Political Prosecutions Rally, 9.30am Monday 3 May 2021, ACT Supreme Court, Knowles Pl Canberra City
3 May 9:30 AM

-

10:30 AM

AEST
Drop the Prosecution of David McBride!  
Defend Democracy and a Free Press – Properly fund the ABC!
May 3 is the start of David McBride's hearing for his public interest defence for providing information to the ABC about possible war crimes in Afghanistan.  The broadcasting of the Afghan Files on 4 Corners on 11 July 2017 was followed by raids on the ABC and David McBride's arrest in September 2018.  He faced his first directions hearing in June 2019.  This drawn out case, like the cases of Bernard Collaery and Witness K uses the guise of 'national security' to close the court.  May 3 is also World Press Freedom day!
How can telling the truth about what was happening in Afghanstan, not be in the public interest?  Similarly with Bernard Collaery and Witness K being charged as a result of the government bugging the Timor Leste government offices during the negotiations for the Timor Sea oil and gas negotiations.  This was to gain advantage in the negotiations, primarily for the benefit of companies such as Woodside Petroleum.
The charges against all these men of integrity are a threat to our system of open justice and a threat to democracy.  They must be dropped!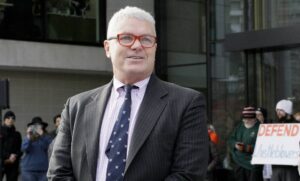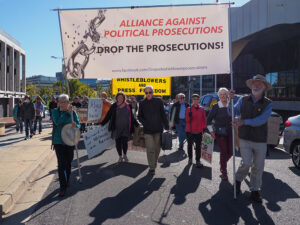 Enquiries:  0417269984
If you would like to be notified of AAPP events, email kathrynk09@gmail.com