Alliance against Political Prosecutions, Rally, 9.30am Monday 17 May 2021, ACT Supreme Court, Knowles Pl Canberra City
17 May 9:30 AM

-

10:30 AM

AEST
Please come along to support Bernard
Collaery and Witness K
Drop the Prosecutions !  
Speakers include Bishop George Browning, and human rights lawyer, Kieran Pender.
May 17 is the start of Bernard Collaery's hearing for his appeal against the secrecy in his trial.
How can  Bernard Collaery and Witness K being charged as a result of the government bugging the Timor Leste government offices during the negotiations for the Timor Sea oil and gas negotiations be in the public interest?  This was to gain advantage in the negotiations, against the interests of our poor neighbour, Timor-Leste, primarily for the benefit of companies such as Woodside Petroleum.
The charges against these men of integrity are a threat to our system of open justice and a threat to democracy.  They must be dropped!
The Alliance Against Political Prosecutions is a recently formed organisation – our Aims and supporting organisations are –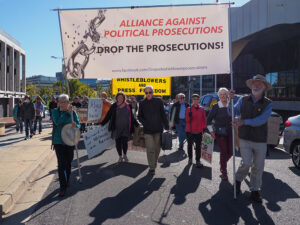 Aims of the Alliance Against Political Prosecutions (AAPP)
AAPP is a coalition of groups and individuals advocating for truth and open justice in the matter of Bernard Collaery and Witness K and whistleblowers David McBride and Richard Boyle;
AAPP condemns politically motivated prosecutions, demands the discontinuance of the cases against such people, and calls for the provision of appropriate financial restitution;
AAPP supports whistleblowers and others whose actions result in serious wrong-doing being brought to public notice;
AAPP opposes the use of secret hearings in such trials – transparency and open justice should remain a high priority in our justice system.
AAPP supports Julian Assange in his fight against extradition to the US and calls on the Australian government to provide every support to him to bring him home to Australia.
AAPP supports calls for Royal Commissions to investigate:
the treatment and also protection of those who have disclosed or do conscientiously disclose, or report on, government or corporate wrongdoing in the public interest;

the formulation, definition, and the positive/negative effects or impact and the oversight of the national security legislation and practices that have emerged over the last two decades.
 Convenor,  Kathryn Kelly 0417 269 984
14 April 2021
AAPP supporting organisations: Australia East Timor Friendship Association, Civil Liberties Australia, Friends of Lacluta (Vic), Humanists Australia, Independent and Peaceful Australia Network, International Association of People's Lawyers (IAPL), Josephite Justice Network, Just Peace (QLD), Lawyers for Peace, Medical Association for the Prevention of War, Timor Sea Justice Campaign (VIC), Monitoring Committee on Attacks on Lawyers, PEN Melbourne, PEN Sydney, PerthPEN, Queensland Timor Sea Justice Group, Timor Sea Justice Forum (NSW), Wage Peace, Whistleblowers Australia.