IPAN National Conference, Darwin 2-4th August 2019 – Registrations open now
2 Aug 2019 6:30 PM

-

4 Aug 2019 1:00 PM

AEST
IPAN National Conference – Darwin – August 2nd – 4th
This year's conference, titled 'Australia at the crossroads: Time for an independent foreign policy' is being held in Darwin, as it is the centre for the most recent establishment of a foreign military presence in Australia.
Public Meeting – Friday evening 2nd Aug 6:30pm. $10 entry fee
Address –
Charles Darwin University
Waterfront Campus – Room 5.03
streetmap: https://goo.gl/maps/FbXdT
directions: main space on Level five
Conference: Saturday 3rd Aug 8:30am – 5:00pm & Sunday 4th Aug 8:30am – 1:00pm. Cost $75 ($50 concession) for both days including lunch. A public rally/protest will be included in the conference program for Saturday afternoon.   See topics and speakers below
Address:
Charles Darwin University
Casuarina campus – Building Blue 1, Room 1.01   
streetmap: https://www.google.com/maps/place/CDU+Casuarina+Campus/@-12.3717852,130.8689199,15z/data=!4m2!3m1!1s0x0:0xa04d77873893b839
sitemap: https://www.cdu.edu.au/sites/default/files/campus_maps/CASmap12.pdf
directions: main theater in building blue 1
Download  IPAN National Conference 2019 program
 Book online straight away!..
https://www.eventbrite.com.au/e/ipan-darwin-conf-tickets-56310347766
IPAN 2019 Conference Flyer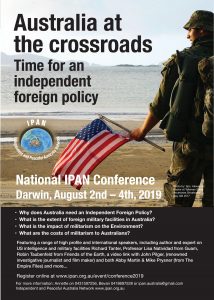 Topics Addressed:
.. Why Australia needs an Independent Foreign Policy
.. The extent of foreign military facilities in Australia
.. The impact of militarism on the Environment


.. The costs of militarism to Australians
Speakers:
Featuring a range of high profile and international speakers, including :
Prof. Lisa Natividad from Guam,
Dr Sue Wareham (International Campaign for Abolition of Nuclear Weapons ICAN),
Ass. Prof. Susan Harris Rimmer (Griffith Uni),
Dr. Margie Beavis (MAPW),
Warren Smith (MUA), 
Dr Alison Broinowski (ANU), 
Robin Taubenfeld (Friends of the Earth),
Shar Molloy (NT Environment Centre),
Donna Jackson (Rapid Ck. Community Centre),
Nick Deane (IPAN),
Henk Rumbawes (West Papua),
      … and others.
Video links with
John Pilger (renowned investigative journalist and film maker)
Abby Martin & Mike Prysner (from The Empire Files).