War Never Again Art Show fundraiser, Carlton, Melbourne, Sat 19th May, 3pm
19 May 3:00 PM

-

5:00 PM

AEST
War Never Again Art Show Fundraiser
Melbourne, Sat.19th May at 3 pm,Steps Art Gallery, 62 Lygon Street in Carlton, courtesy of the Victoria Branch of Medical Association for Prevention of War and of the International Campaign for the Abolition of Nuclear Weapons.
Rod Quantock has kindly agreed to  open th
e event, but has to leave by 4 so get there early!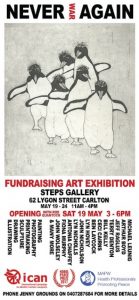 There will be works from printers, painters, photographers, sculptors and even furniture makers.
Artists include Arthur Boyd (collograph) Polly Boyd, Michael Leunig (new painting for this exhibition), Antonia Chaffey (Photography and painting) , Fiona Murphy (Acclaimed ceramic artist and painter) , Ceci Cairns, Mary Hammond, Ailsa O'Connor, (all social realist artists) Bill Kelly (Art for Peace activist), Peter Rossen , John Rodsted (war and antarctic photographer extraordinaire) Lyn Nicholls and Lyn Hovey, (Intrepid Macedon Ranges painters) Jeff Raglus (surf Coast artist and musician) 
and Pam Debenham (fabulous and historic antinuclear screen prints ) Ahmet Kandemir (Kurdish artist and refugee)and many more!