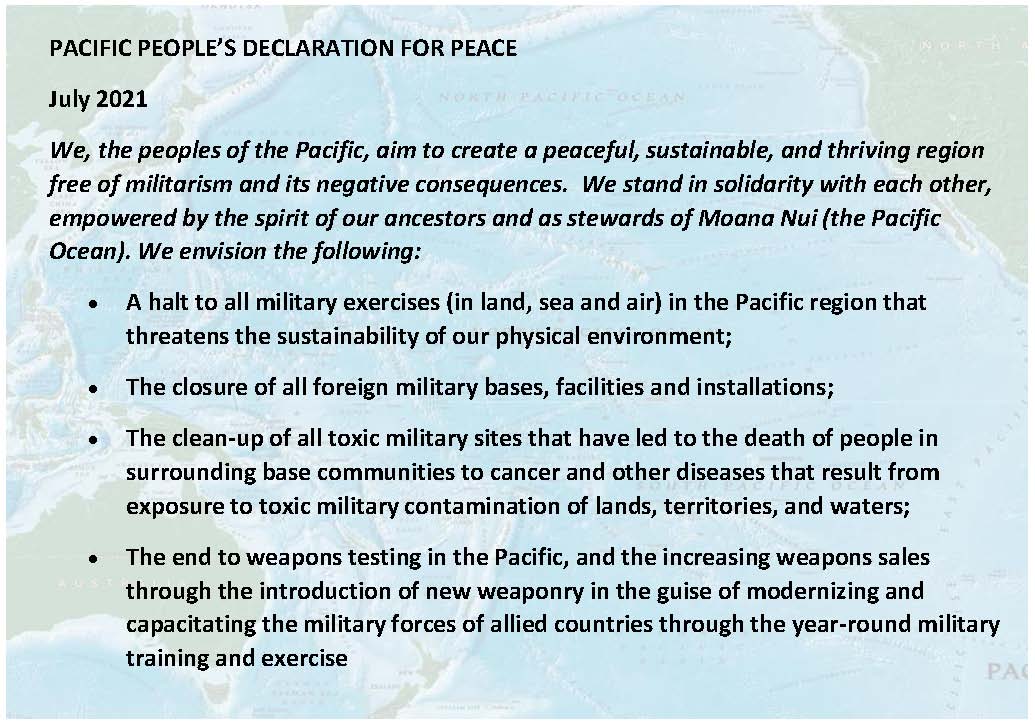 Download this declaration here:  Pacific Peoples Declaration for Peace
Endorse this Pacific People's Declaration for Peace
I (We) endorse the above statement
Your endorsement of this declaration happens in the lead up to one of 2 major Pacific military exercises Talisman Sabre 2021 where many thousands of military personnel will be training for war.
This military exercise occurs on alternate years with Rim of the Pacific RIMPAC in Hawaii. It brings together the Australian Defence Force (ADF) and United States (US) military plus many other countries during a time of global pandemic.
This is an important time to call out the dangers of militarism to the Pacific regions that include:
the destruction of the environment
the violation of the self-determination of indigenous peoples
the sexual exploitation of women and girls
land dispossession
irresponsible global military spending
threats to common security and
an increasing threat of major war between the U.S. and China.
Talisman Sabre takes place every two years on land and sea around Shoalwater Bay in Central Queensland, home of the Great Barrier Reef. It is one of more than 1,500 exercises under the control of US Pacific Command including exercises that take place annually with Japan, Korea, Australia, Thailand and the Philippines. The 7th Fleet exercises include: Tandem Thrust, Valiant Blitz, Keen Edge, RIMPAC, Sea Bat, Tricrab, Dieselex, Shin Kame, Lungfish.