40 high school students, their teachers and six professional artists gathered in Brisbane on August 16th to discuss, debate and develop their own public voice on nuclear disarmament, and on the Australian Government policy of not signing the UN nuclear weapons ban treaty.
A short report is included here, and a more comprehensive report and short video on the day's activities are shown below.
Youth Voice on Nuclear disarmament report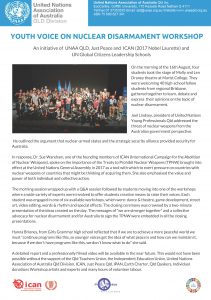 Nuclear-Report-Day_FV-4-print-version
Short 4 Minute Video with highlights from the day
A video made by students on the day in a video workshop.