In this Issue:
The Conflict between the US and North Korea-
What is being said ?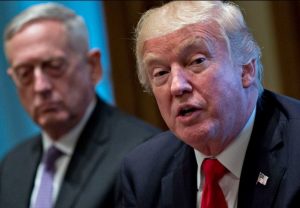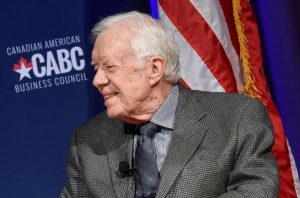 TRUMP (at the United Nations, Sept, 2017):
North Korea's reckless pursuit of nuclear weapons and ballistic missiles threatens the entire world with unthinkable loss of human life. It is an outrage that some nations would not only trade with such a regime, but would arm, supply and financially support a country that imperils the world with nuclear conflict.
The United States has great strength and patience, but if it is forced to defend itself or its allies, we will have no choice but to totally destroy North Korea.
'Rocket man' is on a suicide mission for himself and for his regime.
Ex US President Carter:
Former US President Jimmy Carter is said to have offered to engage in peace talks with North Korea's leader Kim Jong-un over the regime's expanding nuclear and ballistic weapons programme.
The 93-year-old is reportedly even willing to travel to Pyongyang to prevent war – a suggestion that is likely to upset Donald Trump.
Mr Carter's recent comments on North Korea have angered the White House, which last month reportedly asked him not to speak publicly about the crisis with North Korea, possibly fearing he could undermine Mr Trump.
NORTH KOREA:
Speaking earlier in New York, where he had been attending the annual U.N. General Assembly, North Korea's Foreign Minister, Ri told reporters: "The whole world should clearly remember it was the U.S. who first declared war on our country.
North Korea's foreign minister said on Monday President Donald Trump had declared war on North Korea and that Pyongyang reserved the right to take countermeasures, including shooting down U.S. bombers even if they are not in its air space.
Julie Bishop (SMH 11/10/17):
Ms Bishop believes Pyongyang could be prevented from threatening its neighbours "if we make it clear that any attack against the US or its allies will be met with an overwhelming response", and has not given up on deterrence through diplomatic means.
We are vocal in our support of the United States, reaffirming its longstanding policy that "all options are on the table". These options include the use of military force to deter North Korea.
North Korean response to Julie Bishop:
North Korea's foreign ministry has lashed out at Foreign Minister Julie Bishop and warned Australia was "coming within the range of the nuclear strike"
A spokesman for the Foreign Ministry of North Korea – officially the Democratic People's Republic of Korea (DPRK) – was quoted as saying: "The present government of Australia is blindly and zealously toeing the US line. It is hard to expect good words from the foreign minister of such government."
John Hewson (ex leader of the Liberal Party in 1990's) in SMH 6/10/17:
The evolving tragedy that is North Korea is now at the mercy of a mere miscalculation, or accident, an isolated piece of stupidity, or a Trump shot from the hip – even just a piece of an intercontinental ballistic missile (ICBM) dropping on Japan.
This vicarious situation necessitates Australia adopting a strong, independent, foreign policy stance on this challenge, in our national interest.
Clearly, military engagement would be catastrophic, so every effort should be made to foster effective diplomatic engagement and, ultimately, hopefully, negotiation.
I fear that we are far too embedded in the US position, and where it may go. I am concerned that our political leadership is simply happy to be subservient to the US, leaving them, Trump, to define us. Yet, we could play a more significant role, diplomatically, in attempting to manage the emerging crisis.
UNITED NATIONS
United Nations Secretary-General Antonio Guterres said on Monday that the only solution to the crisis was a political one.
"Fiery talk can lead to fatal misunderstandings," U.N. spokesman Stephane Dujarric told reporters.
Russia & China
Russia and China have called for restraint on North Korea after US President Donald Trump warned over the weekend that "only one thing will work" in dealing with Pyongyang, hinting that military action was on his mind.
"Moscow has called and continues to call on the parties involved in the conflict and on those who have anything to do with this issue to exercise restraint and to avoid any steps that would only worsen the situation."
Speaking in Beijing, Chinese Foreign Ministry spokeswoman Hua Chunying reiterated a call for all parties involved with the standoff in North Korea to exercise restraint, describing the situation as extremely complex and serious.
Penny Wong (ALP shadow spokesperson on Foreign Affairs):
Labour's Foreign Affair spokesperson Penny Wong says, "Accepting nuclear North Korea not an option". She says the international community can't concede to North Korea's development of nuclear weapons.
"We need to continue to work to de-nuclearise the Korean Peninsula," says Ms Wong. Senator Wong says it's important for the world to "approach the situation soberly", to exercise "maximum pressure", and to work together – "and we have seen that."
Senator Bob Corker (Chairman of US Senate Foreign Relations Committee):
Bob Corker Says Trump's Recklessness Threatens 'World War III'
He charged in an interview on Sunday that President Trump was treating his office like "a reality show," with reckless threats toward other countries that could set the nation "on the path to World War III." In an extraordinary rebuke of a president of his own party, Mr. Corker said he was alarmed about a president who acts "like he's doing 'The Apprentice' or something."
"He concerns me," Mr. Corker added. "He would have to concern anyone who cares about our nation."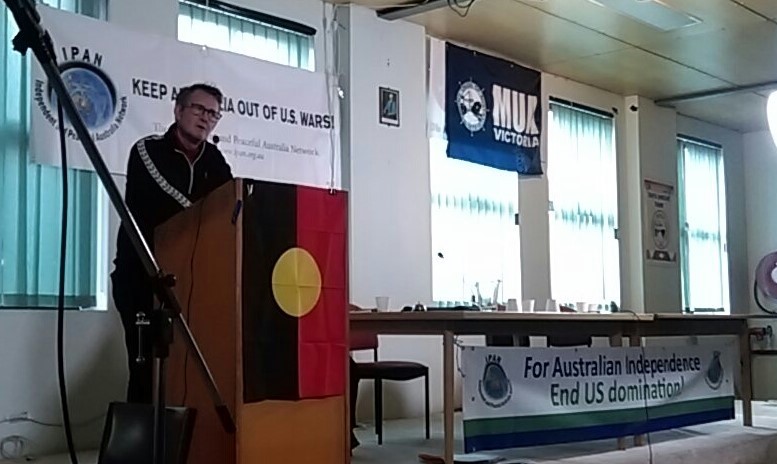 Warren Smith (MUA) speaking at the IPAN National Conference:
… Australia should be a republic and in my view should be decoupled from the US military alliance.
Australia should be independent and stand alone. But we have been drawn into an aggressive military alliance; an alliance which has never been used in our defence but which has unfortunately drawn Australian troops into wars of imperialist aggression. Australian troops have died on the basis of a lie in Iraq, Afghanistan, Vietnam too. And don't forget our part in the Korean War, the basis for much of the conflict today on the Korean peninsula. Further to that the US spy bases make us a considerable threat and military target.
Kevin Rudd slams Malcolm Turnbull's 'irresponsible' pledge to join US-North Korea war.
KEVIN Rudd has slammed Malcolm Turnbull's promise to follow the US into war if it comes to conflict with North Korea as "irresponsible".
"My response to that statement when I first saw it on the weekend was simply 'Good God, have the conservatives learnt nothing from the Iraq experience," Mr Rudd told ABC radio this morning from New York.
Mr Rudd said there was a real risk of a catastrophic conflict on the Korean peninsula.
"But for an Australian prime minister to say we automatically would become militarily involved in the event of a North Korean attack, frankly, I think, is irresponsible in terms of our core national security interests," he said.
Greens urge Australia to cut strategic ties with United States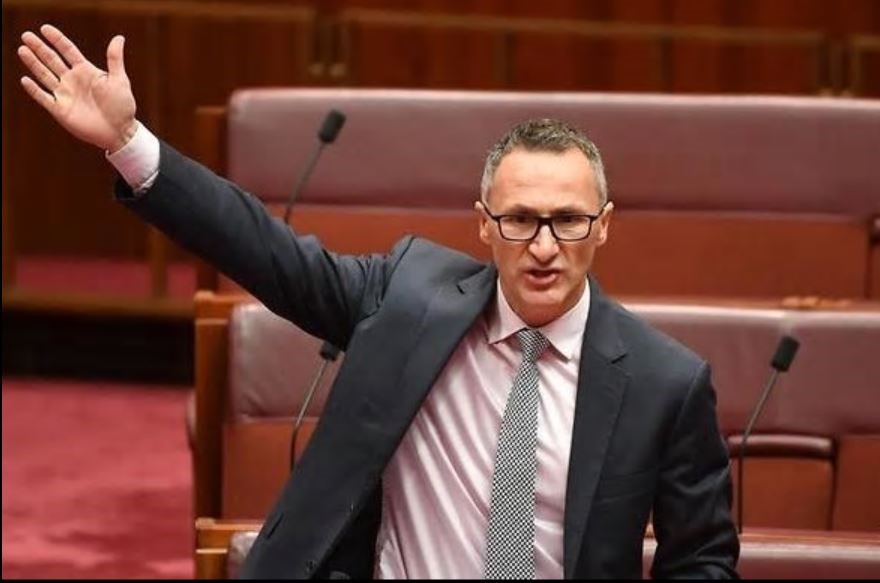 "Richard DiNatale (Green Leader) AAP 11/8/2017
The Greens have urged Australia to cut strategic ties with the United States as Donald Trump ups his rhetoric on North Korea.
Greens leader Richard Di Natale has called on the prime minister to ditch the US alliance, and to urge an "unhinged and paranoid" Donald Trump to de-escalate the situation with North Korea.
Senator Di Natale said it was wrong for Malcolm Turnbull to talk up the prospect of Australia coming to the aid of the United States should the rogue regime launch an attack.
"Malcolm Turnbull, by backing in Donald Trump, has just put a target on our back," Senator Di Natale told reporters in Canberra on Friday.
Greens urge parliamentary debate and approval before committing Australia to war (AAP 14/8/2017)
The Greens have disrupted Senate business to decry the federal government's ability to send Australia to war alongside the US without parliamentary debate.
"How deeply ironic that we have a government refusing to legislate for marriage equality without resorting to a needless postal poll yet it can decide to send men and women to war … without so much as a parliamentary debate," he told senators.
Senator Di Natale wanted the Senate to debate a private bill that would require parliamentary approval before the government commits Australia to war.
"Australia needed to rip up the ANZUS agreement and renegotiate its relationship with the US.. It is a relationship that endangers indeed humanity on earth," he said.
The debate was shut down with Labor opposing the move and voting with the government

What IPAN is saying:
IPAN believes in the peaceful resolution of conflict, opposes war against North Korea and urges negotiation between the conflicting parties, the removal of the United States THAAD missile systems from South Korea, an end to the US/South Korea's provocative war practice on North Korea's doorstep and the cessation of North Korea's missile tests over other countries, leading to talks and the signing of a Peace Treaty between North Korea and the US/South Korea.
IPAN's Open Letter to the Prime Minister and Opposition
The Hon. Malcolm Turnbull MP and the Hon Bill Shorten MP,
Prime Minister of Australia and Shadow Prime Minister
Parliament House
Canberra ACT 2600
27 September, 2017
Dear Prime Minister and Shadow Prime Minister
The Independent and Peaceful Australia Network (IPAN), is concerned that the escalating tensions on the Korean Peninsula could result in war, possibly nuclear war, resulting in the deaths of tens of thousands of people, if not millions.
If a shooting war were to start, either by, for example, North Korea shooting down a US plane, or perhaps the US or Japan shooting down a North Korean missile, this could escalate to a full blown land and air war and possibly then a nuclear exchange. We would expect that you are considering all the possible scenarios, including a nuclear winter resulting from a nuclear war, leading to death and starvation for possibly billions. Any nuclear exchange could not be contained.
As has been said by many countries, there is no military solution to this crisis and the brinkmanship between the US and North Korea must be stopped. A way must be found for these leaders to step back and for the situation to be de-escalated and a catastrophic miscalculation to be avoided.
The most rational way for this to happen is for allies on both sides, that is China and Australia, to put visible pressure on North Korea and the US to return to the negotiating table and freeze military action on both sides. While there has been considerable pressure on North Korea through sanctions, there has been little pressure put on the US to cease its provocative military exercises and other actions such as the erection of the THAAD missile detection systems in South Korea and the recent US flights along the North Korean coast.
A bipartisan approach to such a de-escalation plan would be seen to be a very positive stance by Australia, both domestically and internationally. We cannot be seen to be partisan when diplomacy is not in the skill set of either the US President or North Korea. International communication by Tweet is infantile and unbelievably dangerous.
Australia (and China) must take a stance for a face-saving retreat by both sides and a reduction in tension on the Korean Peninsula – to continue in the current vein is playing with thousands, or conceivably, billions of lives. It is not working to just put pressure on one side – North Korea. The threat of war is extreme.
We urge you to work together to restrain the US and bring sense back to this critically dangerous situation.
Yours sincerely
Annette Brownlie, Chair
The Independent and Peaceful Australia Network Inc
0431 597 256 or 0417 269 984
cc – Foreign Minister Julie Bishop, Defence Minister Senator Marise Payne and Shadow Foreign Minister, Senator Penny Wong, and Shadow Defence Minister, the Hon Richard Marles MP.

Congratulations ICAN:
Nobel Peace Prize awarded to International Campaign to Abolish Nuclear Weapons
ICAN describes itself as a coalition of grassroots non-government groups in more than 100 nations. It originated in Australia and was then launched internationally in Vienna in 2007.
Geneva-based organisation ICAN "has been a driving force in prevailing upon the world's nations to pledge to cooperate … in efforts to stigmatise, prohibit and eliminate nuclear weapons," Nobel committee chairwoman Berit Reiss-Andersen said in the announcement..
Beatrice Fihn, executive director of the ICAN, told reporters "it sends a message to all nuclear-armed states and all states that continue to rely on nuclear weapons for security that it is unacceptable behaviour".
"We are trying to send very strong signals to all states with nuclear arms, nuclear-armed states — North Korea, US, Russia, China, France, UK, Israel, all of them, India, Pakistan — it is unacceptable to threaten to kill civilians."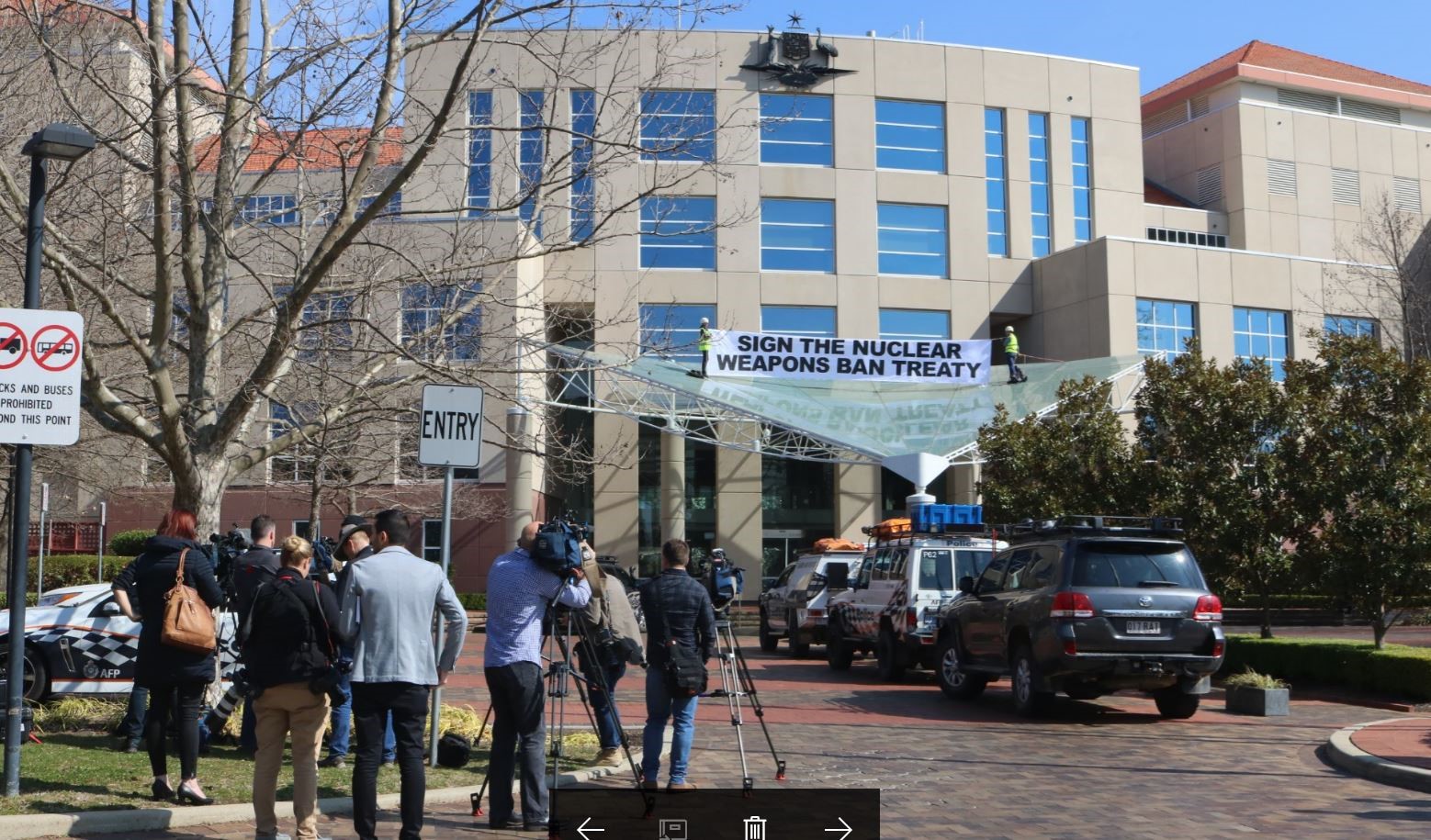 Gem Romuld of ICAN NSW advises the next step :
"ICAN is advocating for nations to sign and ratify the Treaty on the Prohibition of Nuclear Weapons. Many of our closest neighbours have signed on, including New Zealand, Indonesia, Fiji and Kiribati. If the Australian Government is serious about nuclear disarmament, it will sign and ratify without delay. Please help us build political support for this by asking parliamentarians to sign the Parliamentary Pledge."
Find the Pledge and the list of signatories so far at www.icanw.org/projects/pledge.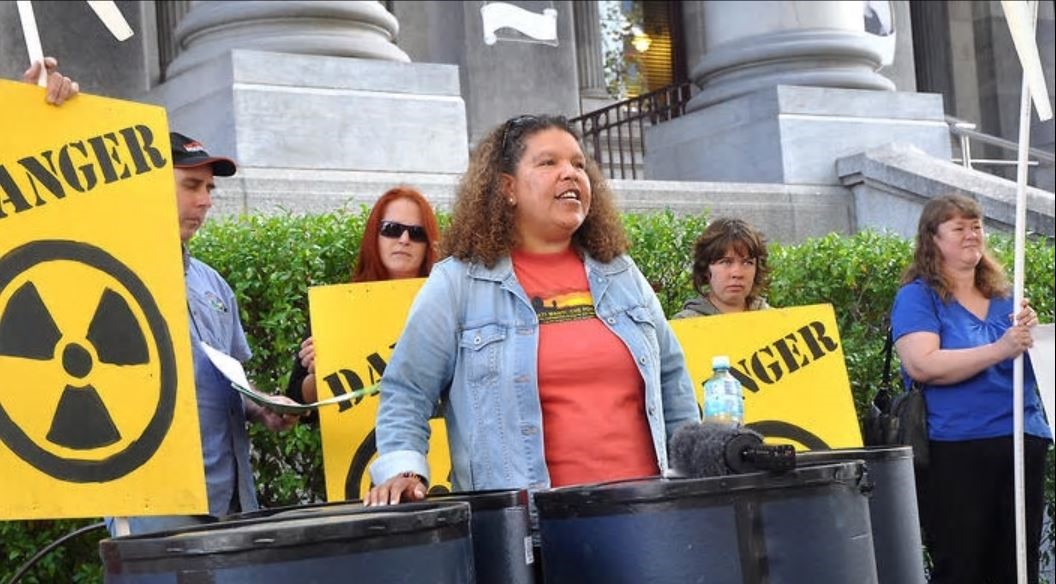 The International Campaign to Abolish Nuclear Weapons (ICAN), this year's Noble Peace prize winner, has worked extensively with First Nations survivors of nuclear testing, including Yami, Rose and Karina Lester, who have played a crucial role in the campaign to ban nuclear weapons.

Brisbane Rally for Peace- October 7th
On the 7th October 2001 the US and UK dropped the first bombs on Afghanistan after the World Trade Towers attack carried out by citizens of Saudi Arabia. They named the operation Enduring Freedom….how ironic as the war led to the opening of a Pandora's box of death and destruction in so many Middle East countries. Brisbane IPAN groups called the Rally to mark that date and discuss the need for Australia to distance ourselves from US military activity including wars.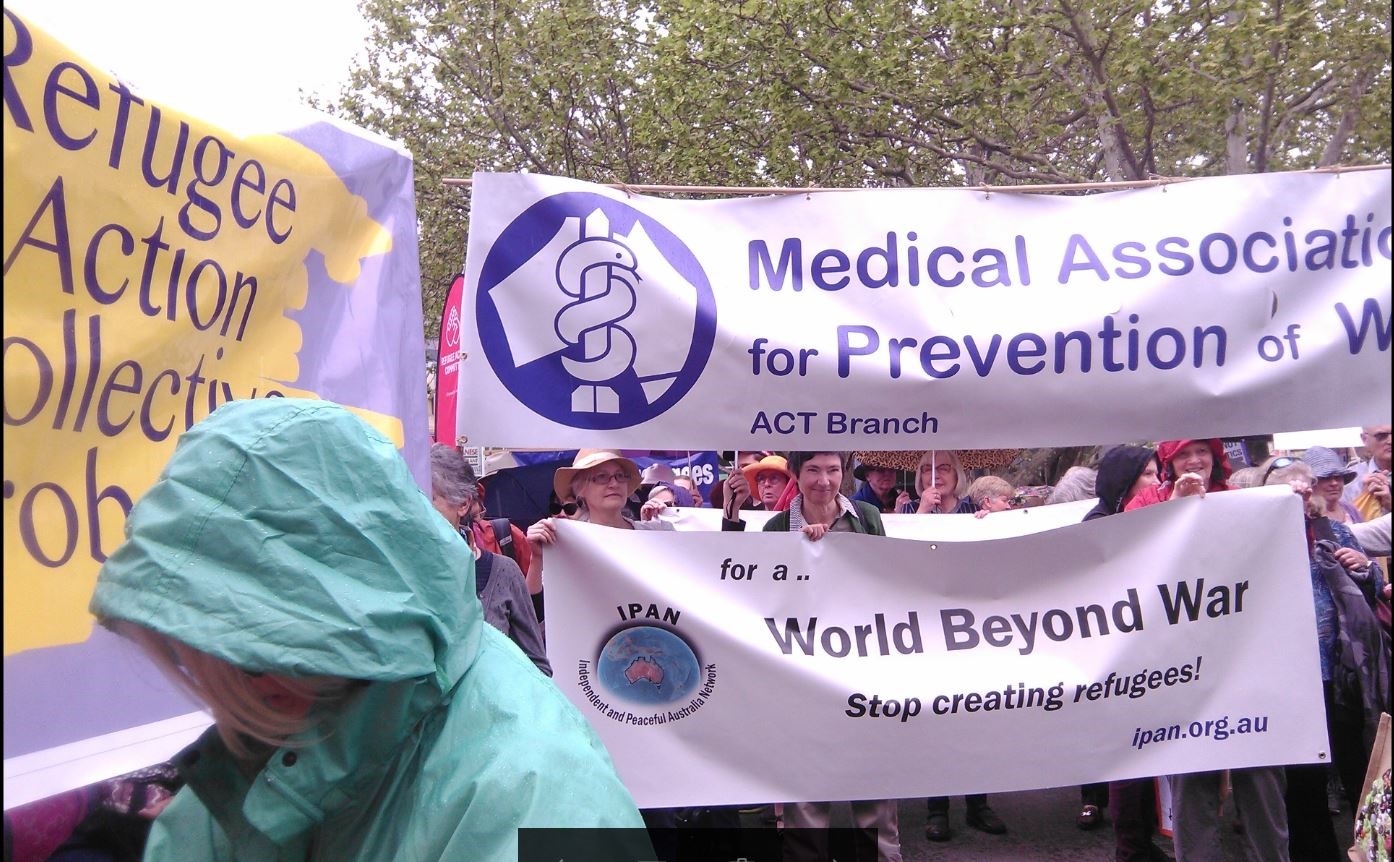 Canberra Refugee Rally
Several hundred people gathered in Garema Place to call for those in Manus Isl and Nauru detention centres to be brought to Australia. Dr Sue Wareham from ICAN and MAPW was a speaker at the rally.
Sydney Candelight Movement – Declaration of Peace
We, the Sydney Candlelight Movement, hereby make the following Declaration of Peace to Australia and to the entire world.
We oppose any threat of war in the Korean Peninsula for any reason whatsoever under any circumstance.
North Korea's continued nuclear and missile tests and the United States' hardline sanctions have escalated the situation in the Korean Peninsula and the threat of war from both sides have reached the point of utmost danger and volatility.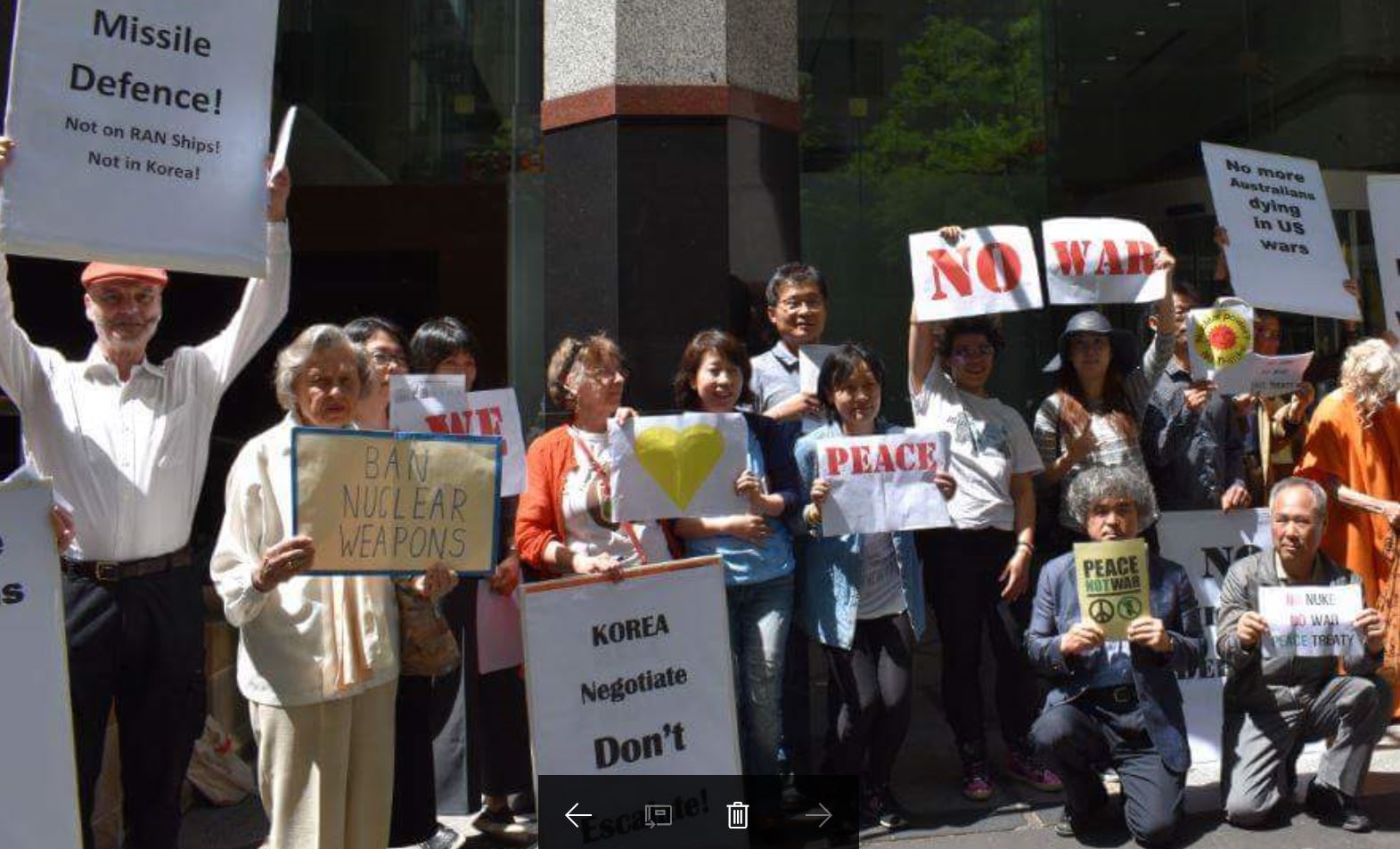 NO WAR rally outside the Department of Defence, Sydney, 13th Oct, 2017 supported by Sydney Candle light Movement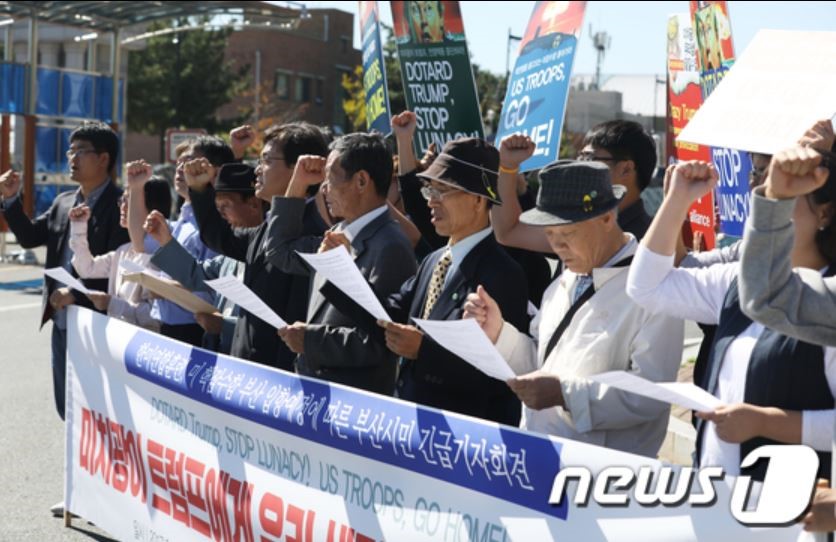 Stop the War Exercise in Korean Peninsula- US Nuclear Submarine go back home
-Report from Sung -Hee Choi ( South Korean Peace Activist)
[Oct. 13] [Busan]Stop the war scheme which would bring in nuclear war! US nuclear submarine Michigan, go back home!
The US nuclear submarine Michigan(SSGN 727) arrived Busan today which is three days later from the arrival of US mine countermeasure ship Chief(MCM-14)to Busan. The USS Chief had visited the Jeju navy base from Sept. 26 to Oct. 2. Busan is where the headquarter of U.S. Naval Forces Korea exists. There will be a celebration for the creation of US navy in a hotel in Busan tomorrow, Oct. 14 and citizens in Busan are ready to protest to it.
Today, there was a people's press conference in Busan, which denounced the arrival of US submarine Michigan. It is told that US nuclear -powered aircraft carrier Ronald Reagan will join another nuclear-powered aircraft carrier Theodore Roosevelt for war exercise near the seawater of the Korean Peninsula in the middle of October.
We denounce all the move to intensify military tension in the Korean Peninsula! Stop the War exercise! No War!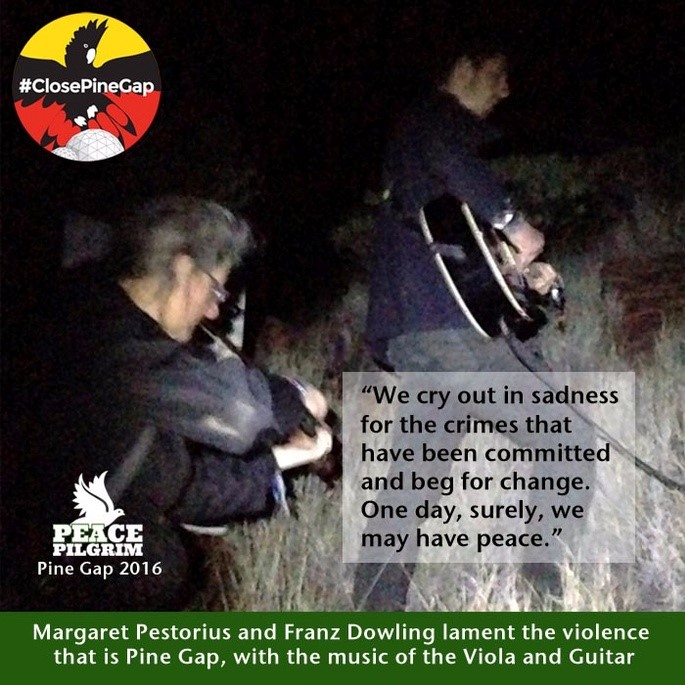 PINE GAP PEACE PILGRIMS FACING COURT 13TH NOVEMBER 2017
On Sep 29 2016, six "Peace Pilgrims" were arrested next to the Pine Gap Military base which is a key US military facility providing support for violent operations, drone strikes and the massive spy program revealed by Edward Snowden.
WHAT IS PINE GAP?
A US base established by the CIA to conduct mass surveillance, collecting raw data from satellites, supporting communications of US armed forces, targeting drone attacks and also supporting arms control verification.
"We PineGapPilgrims challenged the secret US war base at Pine Gap. We prayed too close. Now we face 7 years in prison. Help us tell our story, pay our legal fees and get to court in Alice Springs."
Their courage, and commitment to peace deserves your support
#PineGapPilgrims return to Alice #ClosePineGap
How the US invaded Australia- Gary Lord
( An Opinion piece that IPAN believes contributes to discussion on an independent Australian foreign policy)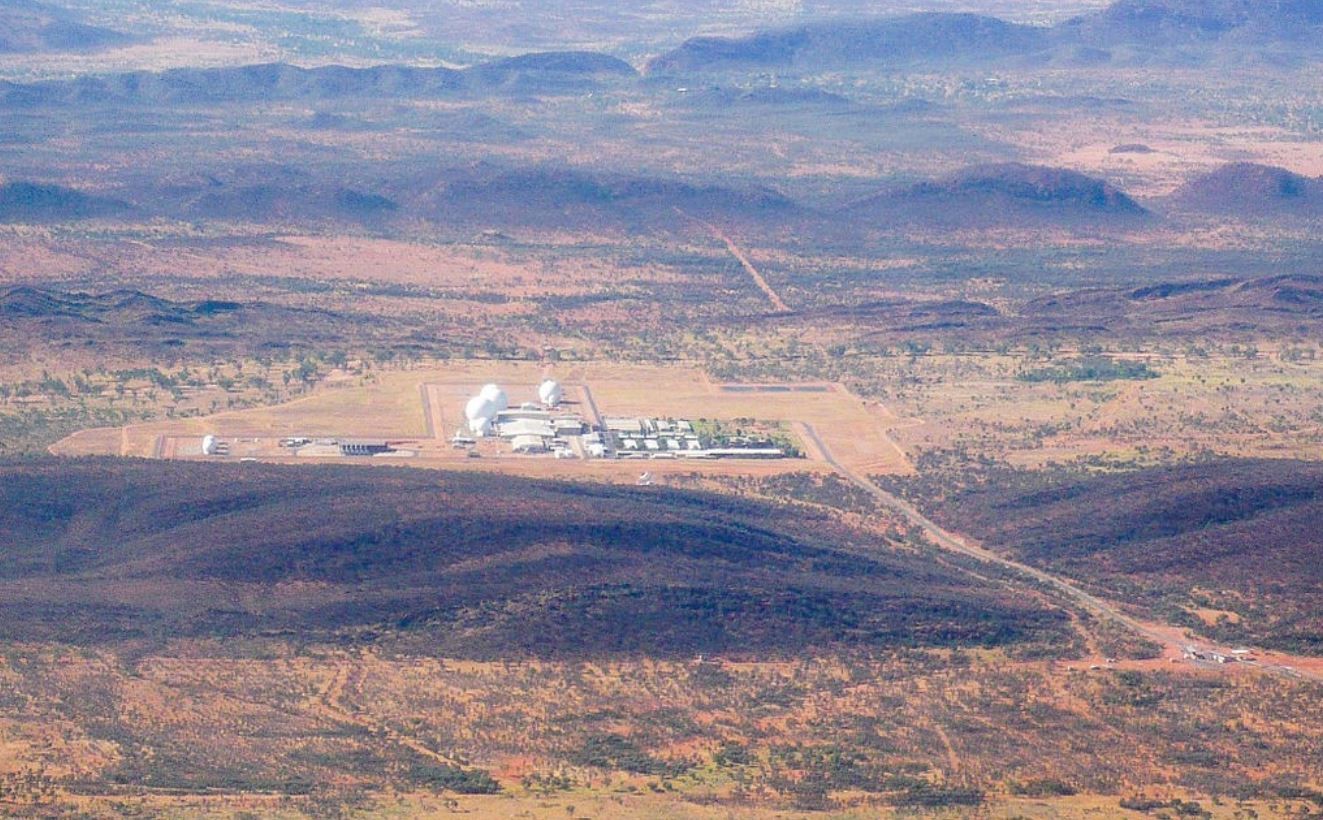 We don't talk about Pine Gap any more. Or North West Cape, or any other US military spy bases in Australia. Forty years since the overthrow of Prime Minister Gough Whitlam, Australians still don't even want to admit that the CIA was involved. Meanwhile, Pine Gap has morphed into an integral part of the US drones program, which regularly kills innocent people in countries we will never visit. Such wanton destruction terrifies and alienates local populations, increases the likelihood that their support will turn to terrorist groups like ISIS and Al-Qaeda, and makes a mockery of our stated National Security goals. It's time Australia parted company with Team USA's military madness, and closed all US bases on Australian soil.
News – Short Takes
SMH 12/10/17
US Bombers fly provocatively close to North Korea in show of strength
The two strategic B1-B bombers conducted night time exercises with Japanese and South Korean air forces. The South Korean Joint Chiefs of Staff said that the US bombers had taken off from the Anderson Air Force Base in Guam.
After entering South Korean airspace, the bombers carried out air-to-ground missile drills off the east coast of South Korea then flew over the South to waters between it and China to repeat the drill.
SMH 12/10/17
US-South Korean Plan to "decapitate" North Korean leader, exposed
North Korean hackers have accessed classified war time contingency plans jointly drawn up by the US and Seoul. One of these military plans included removing the North Korean leader Kim Jong-un, referred to as the "decapitation" plan should war break out on the Korean peninsula.
Britain prepares to support US war on North Korea
Adding to the gravity of the moment are reports in the British media that Britain's military chiefs have drawn up plans for deploying forces along with the US against North Korea. British military chiefs are quoted as saying that they are ready to dispatch a new aircraft carrier, HMS Queen Elizabeth, as well as several destroyers and frigates, to the Korean Peninsula in support of its US ally.Just last week Britain's defense secretary Michael Fallon also delivered a belligerent speech to the Conservative Party conference in which he declared readiness to order "warships, aircraft and troops" in support of the US and other allies.Fallon repeated earlier warnings that his government was fully prepared to order a first-strike nuclear attack against North Korea or any other "enemy state".
Defence News:
HMA Ships Adelaide and Darwin are in Manila as part of Indo-Pacific Endeavour 2017, a joint task group deployment to the region focussed on international engagement.
HMA Ships Adelaide and Toowoomba, from the Australian Defence Force's (ADF's) Joint Task Group Indo-Pacific Endeavour 2017 will arrive in Darwin Harbour today, en route to the Indo-Pacific region.
(Editor: Is this Australian navy deployment to support the US navy in the potential war zone off North Korea ?)
9News.com 12/1017
North Korea warns Australia of "unavoidable disaster".
North Korea has warned Australia that it will face "unavoidable disaster" if it continues to oppose the rogue state. In a statement released today by state-run news agency KCNA, North Korea accused of Australia of "showing dangerous moves of zealously joining the frenzied political and military provocations of the US against the DPRK (Democratic People's Republic of Korea)".
The statement condemned Foreign Affairs Minister Julie Bishop's support for the US, as displayed during a visit to the Korean truce village of Panmunjom on October 11 with Defence Minister Marise Payne.
"Should Australia continue to follow the US in imposing military, economic and diplomatic pressure upon the DPRK despite our repeated warnings, they will not be able to avoid a disaster," it read.
International Day of Peace & Non-Violence Celebrations- Armidale, NSW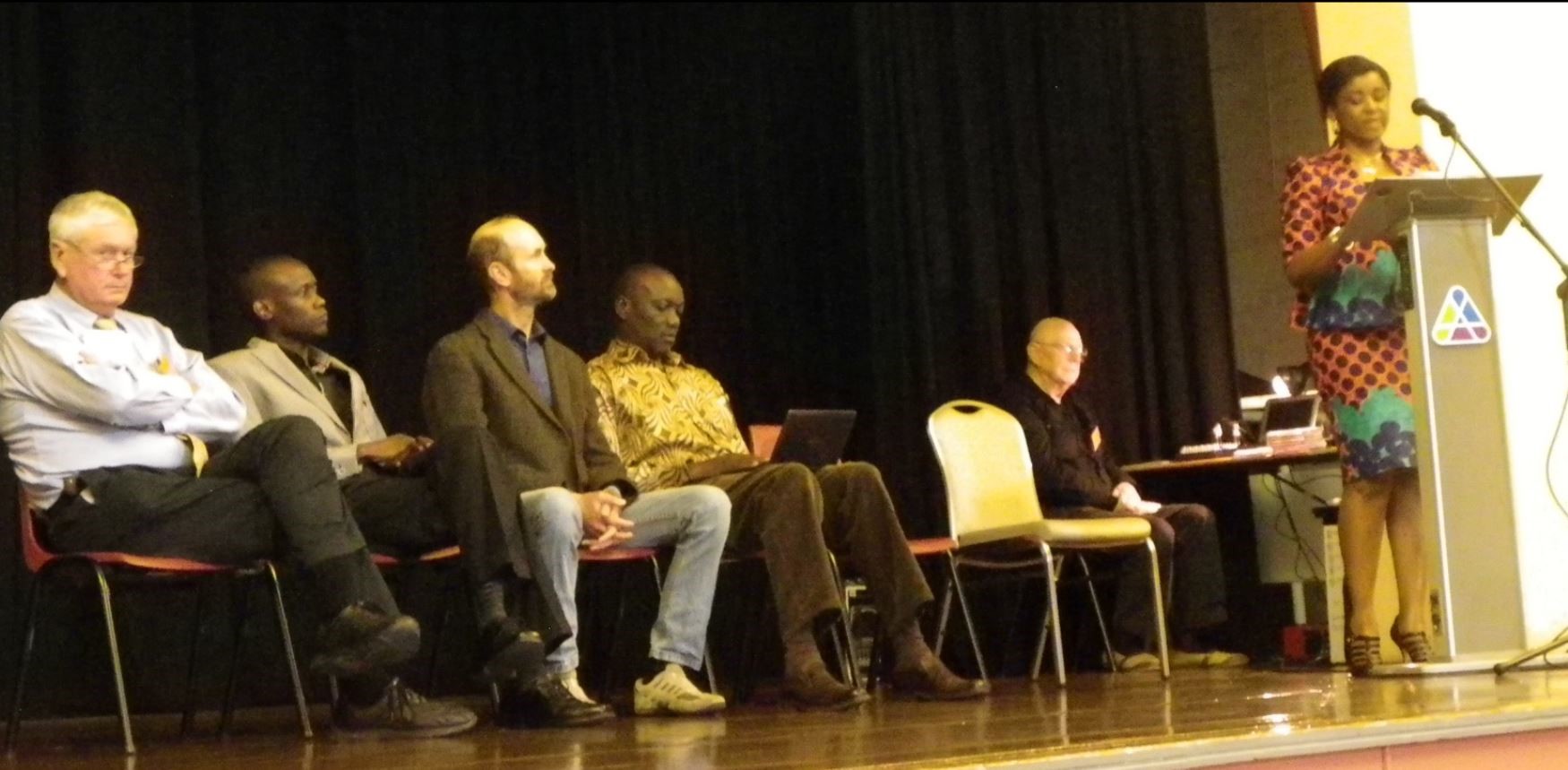 The International Day of Peace and Nonviolence celebrations in the Armidale (NSW) Town Hall on 23 September featured Ros Moran as keynote speaker talking about her experiences teaching nonviolent communication skills in Kenya and Australia.
This was followed by a talk by the University of New England's Convenor of Peace Studies, Dr Marty Branagan, who then introduced four PhD students to discuss their research. These were John Ahere (Kenya): 'Some Peacebuilding Experiences from Africa'; Mosmi Bhim (Fiji): 'Peacebuilding Poetry from Fiji'; Sam Angulo Onapa (Uganda) 'Violent Conflict in South Sudan and the Necessity for Non-violent Means'; and Stella Nwamaka Adimorah (Nigeria) "Because I am a Woman" (photo above).
AUSTRALIA AND U.S. "JOINED AT THE HIP": WHERE'S THE BENEFIT?
by James O'Neill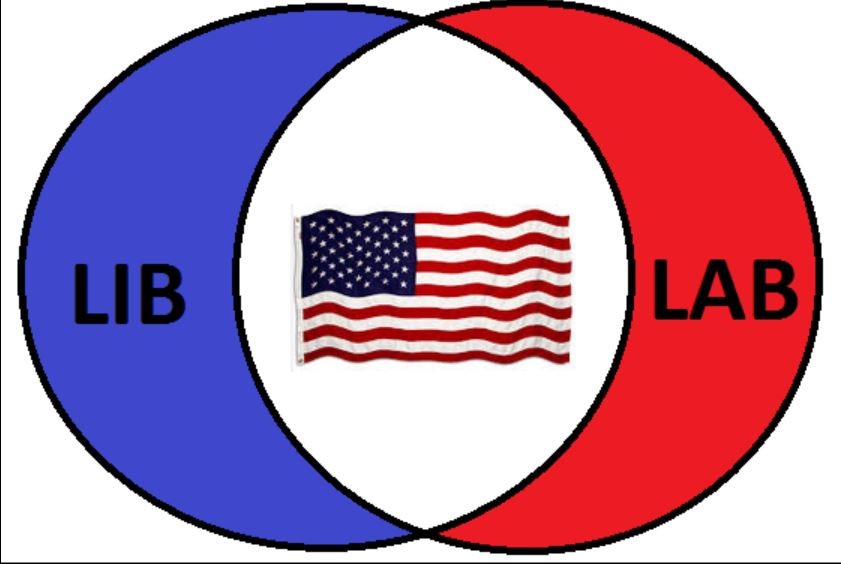 The Prime Minister Malcolm Turnbull has on two recent occasions referred to Australia being "joined at the hip" to the United States on its defence and national security policies. That phrasing invited some critical commentary, but conspicuously, there was no demurral from the official Opposition Labor Party. To all practical intents and purposes the Liberal National Coalition and the Labor Party are indistinguishable on matters of defence, foreign policy and national security.
Invitation 25th Annual Red Flag Dinner – Newcastle
Saturday 25 November 2017, 7pm
Carrington Bowling Club 1c Cowper St, Carrington, Newcastle
This popular annual event enables progressive people from the region to get together for a relaxing end of year celebration.
Guest speaker – Prof Richard Tanter, Melbourne University
The Aust – US military alliance & independent foreign policy
Entertainment – Newcastle People's Chorus
Organised by Hunter Broad Left: ALP Left; Search Foundation; Progressive Labour Party, Non-party Left.
Song of Independence and Peace
(inspired by the old footy song, "Up there Cazaly")
Up there Australia
Stand up and fight
For our independence
From USA might
Out with their bases
No more of their wars
Peace with all nations
When we're out of their claws
Up there Australia
In there and fight
For our independence
From USA might
A mixture of cultures
Let's walk hand in hand
Respecting the people
Who first walked this land
Up there Australia
Stand up and fight
For our independence
From USA might
Peace with all nations
That's what we believe
And sharing our country
With those who're in need
THAT'S WHAT WE BELIEVE !
(Sung at IPAN Conference, Melbourne September, 2017)