In this edition:
Newspaper Advertisement: Keep Australia out of U.S. Wars
Australia's unprecedented decision to snub nuclear ban talks irresponsible
Peace Events: Brisbane – Palm Sunday and Anzac Eve Peace Vigil
Pine Gap protesters to be prosecuted after Attorney-General gives go-ahead
Australian Universities becoming militarised- Alex Edney-Browne
Move the Money Campaign (from military to social useful spending)
More delusional thinking in Australian Foreign Policy by James O'Neill
Historic UN Nuclear ban negotiations begin
Senator Singh urges Australia to support UN Treaty discussions banning nuclear weapons
IPAN's submission to the 2017 Foreign Policy White Paper
KEEP AUSTRALIA OUT OF U.S. WARS
IPAN is placing the advertisement below in a major newspaper. IPAN sees the current political climate as very conducive to stepping up the campaign for an independent and peaceful Australian foreign policy. This advertisement, backed by hundreds of names of individuals and organisations, is part of this campaign.
The statement has already been signed by Julian Burnside AO (Barrister); John Pilger (journalist, author and film maker); David Bradbury (Australian documentary film maker); Greg Barns, Barrister, (Past President, Australian Lawyers Alliance); Professor Peter Norden, AO, RMIT University, Melbourne; Jeannie Rea (National President, National Tertiary Education Union); Trevor Monti QC; Colin Long (Secretary, NTEU Vic Division); Prof. Richard Tanter; Robert Stary (Criminal Defence Lawyer); Senator Scott Ludlum; Geoff Hogg (artist); Paul Adams, (President, NTEU Vic Division); Michael Hamel-Green; James O'Neill (Barrister in Law); Medical Association for Prevention of War; Australian Jewish Democratic Society; several Branches of Maritime Union of Australia from around Australia; amongst many others.
Please consider supporting this newspaper advertisement by adding your name or that of an organisation with which you are associated, to the list to be published. Each individual or organisation name should be supported by a donation to meet the cost of the advertisement. $20, or whatever you can afford, is suggested for individuals. Organisations may care to donate more.
To support this action:
Send your name to: ipan.australia@gmail.com and state that you want to support the newspaper statement. Please include your contact details.
Donations in support can be sent to:
IPAN Account: BSB 814 282 Account No 50546137
Cheques to IPAN Treasurer, PO Box 573,Qld, 4151
or cash by phoning an IPAN state coordinator:
Darwin: Justin Tutty 0424 028 741
Queensland: Annette Brownlie 0431 597 256 or Ross Gwyther 0408 782983
NT/Alice Springs: Jonathan Pilbrow 0403 611 815
ACT/Canberra: Kathryn Kelly 0417 269 984
NSW: Bevan Ramsden 0418 697 528 or Nick Deane 0420 526 929
Victoria: Shirley Winton 0417 456 001 or Romina Beitson 0414 352 542
South Australia: Stephen Darley: 08 7329 8542
West Australia: Jo Valentine 0427 708 180
Proposed Newspaper Advertisement
Keep Australia out of U.S. wars
A Public Call for
An Independent and Peaceful Australian Foreign Policy
We, the undersigned, are deeply concerned with the growing threat of another major world war. We are alarmed that as a compliant ally of the US, Australia will be dragged into another US provoked war with devastating consequences for people and the environment.
Australia hosts thousands of US marines in Darwin and conducts joint military exercises in Qld. with tens of thousands of US troops. Australia hosts the U.S. spy base at Pine Gap, near Alice Springs, which contributes to the targeting of assassination drones and which gathers intelligence for use in wars. The North West Cape base in West Australia is heavily involved in preparations for space warfare. Australia is involved in U.S. wars and/or military build ups in the Asia-Pacific and the Middle East. In none of these wars has the invaded country been a threat to Australia or the Australian people. In international forums, Australia echoes U.S. policies opposing Nuclear Disarmament.
We believe Australia's military alliance with the U.S., involving the complicity of successive Australian governments in U.S. global military agendas, undermines Australia's peace, security and sovereignty.
We demand the Australian government stop spending millions of dollars of people's taxes on U.S. wars, buying their offensive military equipment (eg. F35 Joint Strike Fighters and killer drones) and hosting marines in Darwin. We call on the government to re-direct public funds to public health, education, community services, developing sustainable manufacturing industries and protection of the environment.
It is time we, the people, asserted our sovereignty, took control of our foreign policies and reviewed the presence of U.S. bases and troops in Australia. It is time we started promoting genuine peace and security, human rights, a sustainable environment and our independence.
Name……………………………………………………………………………………………………………. (State)…….
Organisation(if applicable)……………………………………………………………………………………………
Email………………………………………………………………………………………………… Phone:…………….
Please make a donation and help us publish this important statement in major media outlets. Donation details above. Thank you for your support.
Signed statements should be sent to one of the IPAN state addresses: Qld, P.O. Box 573 Qld. 4151; NSW, P.O. Box A899, Sydney South, NSW 1235; VIC. Suite 20, 54 Victoria st, Carlton, Vic. 3053; or email to: ipan.australia@gmail.com
Independent and Peaceful Australia Network
Generous donations will help cover the high cost of advertisements and widely publicise this urgent call to Keep Australia Out of U.S. wars.
Australia's unprecedented decision to snub nuclear talks is irresponsible
By Paul Barratt and Sue Wareham in SMH
Australia is about to do something unprecedented in the conduct of our international relations.
We are about to boycott major UN multilateral nuclear disarmament negotiations. On March 27 in New York, negotiations will commence on a treaty to ban nuclear weapons, following a strongly supported resolution passed in the General Assembly last December – with 123 nations in favour, 38 against and 16 abstentions – for "a legally binding instrument to prohibit nuclear weapons, leading towards their total elimination".
Foreign Minister Julie Bishop's pronouncements on the need for a rules-based international system will ring hollow if Australia undermines the push for nuclear disarmament. Photo: Louise Kennerley
The UN resolution and the forthcoming negotiations are the result of intense government and civil society action in recent years that has highlighted the catastrophic humanitarian impacts of these most terrifying and destructive of all weapons, and the imperative to prevent any further use.
However, Australia has consistently maintained that we must rely on US nuclear weapons to "protect" us ("extended deterrence"), and therefore will not rule out their use on our behalf. Exactly how or under what circumstances that protection would manifest, or against which populations a nuclear bomb might be launched on our behalf, has never been explained.
Australia's boycott of the disarmament talks, a decision that was made public just last week, will have grave implications, quite apart from the unconscionable act of snubbing the most promising disarmament initiative in decades. It calls into question our commitment not only to the UN but also to the 1968 nuclear non-proliferation treaty, article 6 of which obliges all member states – not just those with the weapons – to "pursue negotiations in good faith on effective measures relating to … nuclear disarmament".
The key to a ban treaty's effectiveness lies in its power to delegitimise and stigmatise weapons that kill and maim whole populations indiscriminately. Which nation would boast of a "smallpox deterrent" or a "nerve gas deterrent"? Yet despite the existence of treaties to ban these other weapons of mass destruction, there is still no equivalent treaty to ban the only weapons that can destroy a city in an instant and leave human suffering and environmental devastation on a scale we can't imagine.
The US, which has been the strongest opponent of the ban treaty process, with Australia as our ally's most active and vocal supporter, has conceded behind closed doors that a ban treaty will have exactly its intended purpose. A letter from the US mission to NATO to its NATO allies on October 17 last year, expressed alarm that a nuclear weapons prohibition could, among other things, "make it impossible to undertake nuclear planning or training". Indeed; that's the whole point of the thing.
Australia's boycott will also render our advocacy in other areas less credible. Foreign Minister Julie Bishop's frequent pronouncements on the need for a rules-based international system will ring hollow if Australia actively undermines this historic effort to strengthen international law and give effect to the disarmament obligation written into the non-proliferation treaty.
How will Australia be able to condemn nuclear missile tests by, say, North Korea, or other possible future proliferators, when we support a nuclear apartheid and oppose efforts to place all nuclear-armed nations on the same legal footing?
And in the region, Australia will yet again stick out as merely an appendage to the US rather than an independently minded nation that considers global interests and its own interests above those of its ally. Every south-east Asian nation, and all Pacific island nations (save Micronesia, which is still vulnerable to US pressure) support the delegitimising of nuclear weapons via a treaty banning their development, testing, manufacture, deployment and use. New Zealand has, again, been a leader in the process. China is considering attending the negotiations.
Australia's approach to nuclear disarmament was best summed up in Senate estimates in October last year, when a Department of Foreign Affairs and Trade representative was questioned on it. The response was that "In order to be able to effectively carry forward disarmament, you need to have a world in which there is not a threat of nuclear weapons and people feel safe and secure". In other words, Australia will look at the need to get rid of the weapons when they no longer exist.
Australia's decision is irresponsible and unworthy of a nation that – notwithstanding our support for extended nuclear deterrence – has had a long history of engaging with UN disarmament initiatives. Whatever we have to say about this vital issue, we should be at the table saying it. The decision should be reversed.
Peace Events
Brisbane:
PALM SUNDAY- NO MORE WARS- HUMANITY AND JUSTICE FOR REFUGEES
SUNDAY APRIL 9TH KING GEORGE SQUARE 2-4PM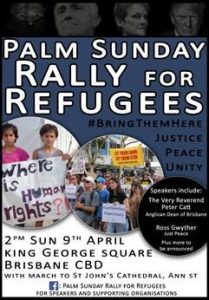 Brisbane
ANZAC EVE PEACE VIGIL
Monday 24th April, 445-7 Emma Miller Place, Brisbane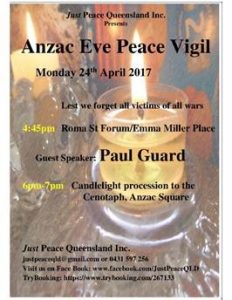 Pine Gap protesters to be prosecuted after Attorney-General gives go-ahead
By Tom Maddocks
Posted 21 Feb 2017, 5:34pm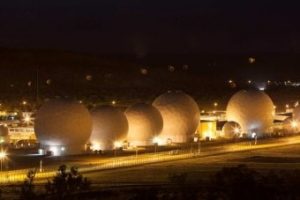 PHOTO: The offence of entering a prohibited area carries a maximum penalty of seven years' prison. (Supplied by Krustian Laemmle-Ruff)
RELATED STORY: Pine Gap protesters freed after breaking into US-Australian defence facility
MAP: Alice Springs 0870
The federal Attorney-General has approved the prosecution launched against protesters who broke into top-secret military base, Pine Gap.
In September last year, six anti-war activists were arrested after they breached the perimeter into the joint US-Australian defence facility outside Alice Springs.
However, they were freed and the charges laid against the group were thrown out of court because police failed to gain the consent of the federal Attorney-General before the prosecution began.
At the time, Judge Daynor Trigg described the legislation as "nonsense" and said the police prosecution was "flawed".
In documents tendered to the Alice Springs Local Court today, Attorney-General George Brandis gave consent to prosecute.
The protesters, who live in Queensland, did not appear in court but their defence lawyer, Russell Goldflam, said they would contest the charges.
The Commonwealth offence of entering a prohibited area carries a maximum penalty of seven years in prison.
The case will return to court next month and is eventually expected to head to the Supreme Court for trial by jury.
It is only the second time there will be a prosecution made under this act.
In 2005, four activists broke into Pine Gap and the matter proceeded to trial.
The group was convicted and fined but they appealed and the conviction was quashed and they were acquitted.
Australian Universities becoming militarised
by Alex Edney-Browne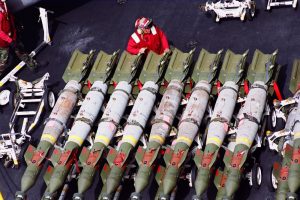 GBU 12 Paveway II bombs (550b) built by Lockheed Martin, the world's largest arms manufacturer; they opened a research lab at Melbourne University this year, their first outside the U.S.
Alex Edney-Browne writes:
I'm a PhD student at the University of Melbourne currently overseas on fieldwork, and I wrote this piece because I'm upset and worried about where Australian universities are headed. My research is (broadly) on the effects of the US-led Coalition's "war on terror", specifically how drone attacks and drone surveillance have affected people's lives and livelihoods. On a day where I'd been speaking with refugees from Afghanistan, Iraq and Syria, who have been displaced by terrorism and war, I came back to my accommodation to a "Graduate research opportunities" email from the university. I opened it — the keen student I am — and swallowed hard. The first three listings advertised science and technology research for the military. I thought of the Afghan woman and her young daughter who'd taught me how to knit that morning, and I thought of a fellow PhD student in Australia working on weapons development for Lockheed Martin — a company whose Hellfire missiles and GBU 12 Paveway II (500lb) bombs are dropped over Afghanistan.
Deflated and disillusioned, I realised my university will soon be part of the problem, not the solution. One of society's most important critical and innovative institutions is endangered by its growing ties to the Department of Defence, weapons manufacturers and military funding bodies. What hope does that leave my generation for our future, or are we expected to look forward to another years of war, terrorism, displacement, surveillance, reactionary Islamophobia and anti-immigration rhetoric?
IPAN Campaign
Move the Money (from military to socially useful spending)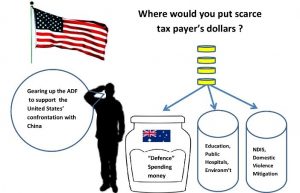 This campaign will be waged in various phases during 2017
Initial actions will involve public places in which passers by will be asked to indicate how they would spend $67 billion (current military spending) by moving counters valued at $100M each from a large military spending container to jars labelled, education, public hospitals, NDIS, domestic violence elimination , environment and other socially useful activities.
In Sydney, this will take place on Saturday, 22nd April at the Town Hall Square
In ACT this will take place on Wednesday, 19th April at 12.30pm in Garema Place, Civic, ACT
You are are invited to attend and take part
MORE DELUSIONAL THINKING IN AUSTRALIAN FOREIGN POLICY- James O'Neill
The Australian government's selective view of history and capacity for self-delusion in its foreign policy was on full display when Foreign Minister Julie Bishop delivered the Fullerton Lecture to the International Institute of Strategic Studies in Singapore on Monday 13 March 2017.
She called on the United States to "play an even greater role as the indispensable strategic power in the Indo-Pacific." "It" (the US) "is the pre-eminent global strategic power in Asia and the world by some margin," she said. The region was in what she called a "strategic holding pattern and waiting to see whether the US and its security allies and partners can continue to play the robust and constructive role they have for many decades in preserving the peace."
Ms Bishop is being reported (SMH 14.3.17; ABC 14.3.17) as sending a "clear message to China" saying that "domestic democratic habits of negotiating and compromise are essential to powerful countries resolving their disagreements according to international law and rules."
One seriously questions what parallel universe Ms Bishop and her government are occupying.
According to research carried out by William Blum (www.antiempirereport.com 17 March 2017) since the end of World War 2 the United States has:
Attempted to overthrow more than 50 foreign governments, most of them democratically elected.
Dropped bombs on more than 30 countries.
Attempted to assassinate more than 50 foreign leaders.
Attempted to suppress a populist or nationalist movement in more than 20 countries.
Grossly interfered in democratic elections in more than 30 countries.
Just to take some examples closer to home, the United States overthrew the Indonesian government of President Sukarno in 1966, with the active assistance of the British (Independent UK 1.12.98).  The CIA supplied to the Suharto dictatorship that followed the names of more than half a million (largely ethnic Chinese) citizens who were then murdered.
One of the little appreciated facts of history is that the US ambassador in Indonesia at the time went on to be the ambassador in Chile shortly before the overthrow of the Allende government, and then to Canberra shortly before the overthrow of the Whitlam government.  Opposing US foreign policy can be dangerous, even for supposed friends and allies.
Following the 1954 Geneva Accords that terminated the French occupation of Indo-China, Vietnam was divided into two parts.  The US refused to allow the southern part to hold free elections in accordance with the Geneva Accords.  The most likely reason is that they thought that Ho Chi Minh would win.
That gross interference triggered what we are pleased to call the Vietnam War, but what the Vietnamese more accurately call the American War.
Millions of Vietnamese were killed or wounded in that war, which did not end until 1975 with the ignominious flight of the Americans.  There was huge environmental damage through the widespread use of the carcinogenic Agent Orange among other forms of chemical warfare.
Vietnam's neighbours, Cambodia and Laos, suffered massive bombing from the US.  Ordinance from that era is still killing and maiming Cambodians and Laotians.   Perhaps needless to add, the war against Laos and Cambodia was undeclared.  It was labeled the "secret war" although hardly a secret to the victims.
Further afield but still involving Australians, Iraq was invaded in 2003 on multiple false pretexts and contrary to international law.  Unlike the British and the Dutch, Australia has refused to conduct a Chilcot style inquiry.
The disastrous consequences of that invasion are an ongoing problem, with the rise of Islamic extremism only one of the results.  The new Trump administration seems determined to repeat the disaster with Trump and other senior administration officials making open threats against Iran.
The Iraqi experience did not deter either the US or Australia from attacking Syria, another breach of international law.  The Australian government lied about that decision, and refused to release the legal advice upon which it was purportedly made.
The most likely real reasons for Australia's willing participation in other people's illegal wars and other ongoing disastrous foreign misadventures were disclosed in the recently released Palazzo Report. (J. O'Neill www.johnmenadue.com 1st March 2017).   Palazzo makes clear that the dominant foreign policy consideration is to curry favour with the Americans by paying what might fairly be regarded as insurance premiums against some hypothetical future need.
Quite how this sorry record (and it is only a fraction of the full horror) makes the United States the "indispensable strategic power", or reflects "a constructive role in maintaining the peace", or even "resolving disagreements according to international law and rules" is frankly baffling.
China might not meet Ms Bishop's standard of 'democracy', but its role in such massive and peaceful developments as the One Belt, One Road projects; the Regional Comprehensive Economic Partnership and the Shanghai Cooperation Organisation makes it more truly the 'indispensable power' than Ms Bishop's American centred fantasies.
The time has long since arrived when Australia's foreign policy reflected the world we actually inhabit and Australia's national security interests within that real world.
Building a foreign policy on the basis of a world that never was is infinitely more dangerous and not in Australia's national interest.
* Barrister at Law and geopolitical analyst.  He may be contacted at joneill@qldbar.asn.au
Historic UN nuclear ban negotiations begin
March 27, 2017
On Monday, negotiations on a treaty to ban nuclear weapons in international law began in New York. The treaty is being negotiated based on the recognition that the humanitarian impact of nuclear weapon use is morally unacceptable and that the weapons themselves represent a significant risk to human security. As the conference opened, ICAN's executive director, Beatrice Fihn, said: "The treaty will finally ban weapons designed to indiscriminately kill civilians, completing the prohibition of weapons of mass destruction."
With the support of more than 120 countries, the UN General Assembly approved the negotiation of a treaty banning nuclear weapons in October 2016. The UN action followed a series of fact-finding conferences on the unacceptable humanitarian cost of any nuclear weapons use and the role a prohibition on nuclear weapons would have in strengthening international humanitarian law. It was the conclusion of the General Assembly that every state has security interest in preventing nuclear weapons use.
Senator Singh (Tas) speaks out in House of Reps on need for Australia to support the UN Treaty discussions to ban Nuclear Weapons
Protest at the Australian Parliament to Ban the Bomb
http:// https://t.co/7rdXNFSGQ4
IPAN's Submission to the 2017 Foreign Policy White Paper