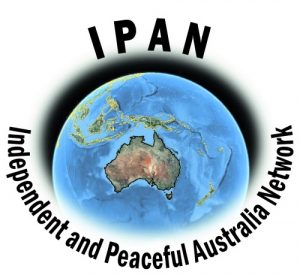 Independent and Peaceful Australia Network (IPAN)      
 MEDIA RELEASE     FOR IMMEDIATE RELEASE 11/07/2019
US MARINES IN DARWIN MIGHT REPEAT ROYAL MARINES PIRACY IN MEDITERRANEAN
             The "Force Posture Agreement" with the Australian government would not prevent US Marines in Darwin from repeating the piratical seizure by Gibraltar-based Royal Marines last week of a Panamanian-registered tanker carrying Iranian oil to Syria. The British boarded the ship as self-appointed 'enforcers' of the US sanctions against Iran, sanctions not endorsed by the United Nations and therefore illegal.  The British action in Spanish waters was condemned by the Spanish government.
             IPAN spokesperson Nick Deane said "the Australian government has little effective control over the actions of US Marines in Darwin, who would be eager to add to US war-like provocations against Iran. Iranian oil bound  to Indonesia or China would be vulnerable to such actions". Such US harassment could draw Australia dangerously  into confrontation with Iran and her allies (including China and Russia), even as Australia contemplates support for a US war on Iran.
             "Such a possibility reinforces the need to end the "Force Posture Agreement" with the US and send their Marines home, said Nick Deane.  "It also further highlights the sore need for an independent foreign policy". IPAN is holding its National Conference in Darwin 2nd to 4th of August.
Media Interviews: Contact Annette Brownlie 0431 597 256
IPAN Media Liaison:  Kathryn Kelly, contact 0417 269 984